Entrance Tickets
Ordering Tickets at Hot Metal Press could not be simpler...
Download and fill out our TICKET INFORMATION FORM
Place your order below.
At the end of the order process, please UPLOAD your completed TICKET INFORMATION FORM and any accompanying graphics or logos, or completed artwork (or email them directly to us).
You will receive an order confirmation email.
We will layout your ticket if required and send it back (proof) to you for your approval and/or changes
(all included in the cost).
Once approved we will then print & dispatch, or contact you for collection.
Products
Material
Design Requirements
Double Sided
Paper Colour
Stapled in to books of
Carriage Required?
Quantity of Tickets
Minimum order: 1
Executive
Printed on ultra secure 115g ticket stock with Thermochromic and UV Inks, perforated and sequentially numbered, printed in BLACK only on a choice of colours.
Executive Plus
As Executive with the addition of a METALLIC HOT FOIL security die for belts and braces security.
Executive Colour
As Executive but with FULL COLOUR print.
Standard Tickets
Not quite so secure as our Executive range, printed on standard 120g bond paper, but still a popular choice, perforated and numbered with a choice of sizes.
Please ensure you've seen our guidance for ordering entrance tickets.
Thermochromic Inks in action
UV Inks in action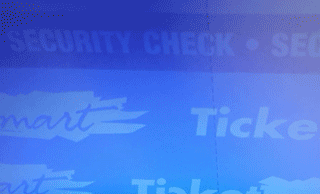 Executive
Intricate and colourful, hard to copy, background screen in a choice of 7 colours.
Blue, Orange, Green, Warm Red, Brown, Purple or Yellow.
Printed on 115g Stationery Paper.
Overprinted in black or full colour (with Executive Colour) with your event details.
Printed with UV Ink on Reverse for Extra Security (invisible in normal light, but visible under UV light).
Printed with Thermochromic Ink on reverse for even more security (Reacts to temperature change).
Optional Hot Foil print to face for Photocopy proof Security with the Executive+.
Standard
Any design you like! let our in house designer cook you up something special.
Dazzling CMYK Full Colour print.
Printed on 120g Bond paper.
Perforated stub and sequentially numbered.
Optional security foils available.
Separate guidance for ordering Entrance Tickets is available.
Print ready artwork
Is preferably
a .pdf file
in CMYK
has a 3mm bleed
has a 5mm safe margin
at least 300dpi
PDF File
We prefer Adobe Acrobat Portable Document Files, with fully embedded fonts, or all fonts converted to paths. Please use the "High Quality Print" settings in your software package when creating the .pdf Other common software we can work with include Microsoft Word, Publisher, Excel, Photoshop, Illustrator, and many more. Please note! If you do not supply us an adobe .pdf there may be unexpected changes in the finished print - for this reason we always send you a proof to approve before we go to print.
CMYK
Artwork should be supplied as Full Colour, Cyan Magenta Yellow and Blac(k) files, rather than RGB as colour differences can occur when converting from screen to print colours.
Bleed
Your artwork should have an extra border around the edge, your design may "bleed off" into this area if it is intended to print right up-to the edge of the cut final sized page. More detailed information on bleed is available.
300dpi
Computer screen "bitmap" or "raster" images are usually 72 or 96 Dots Per Inch, when these are printed they tend to be very small, or "pixelated", for print images a much higher detail, or resolution, image is required, usually 300 Dots Per Inch (dpi) or even higher.

If your file is a Vector format file, then resolution is not an issue.
Help!
Please do not hesitate to contact us if you need help with your artwork, we offer a full design service should you need but our advice is free!